[:sq]
The first coordination meeting of the project 'Sustainable University-Enterprise Cooperation for Improving Graduate Employability – SUCCESS', was held on Thursday, December 17, 2020.
 The EU ERASMUS + SUCCESS project aims to connect universities and industry by improving the educational system in the direction of entrepreneurship, creating new job opportunities and better exchanging of practical knowledge from industry to educational institutions in order to ultimately reduce the youth unemployment rate and stop the trend of active labor force departing from our country.
 The project involves 16 partner universities, chambers of commerce, companies, and development agencies from countries in the region and Europe.
International Burch University is the project coordinator, and the project also includes Džemal Bijedić University, the University of Tuzla, University of East Sarajevo, and also universities from Albania, Serbia and Montenegro are also participating in the project, as well as European partners who will share their knowledge and experience: UAS Kempten from Germany, University of Lublin from Poland, and the OBREAL / GLOBAL Association from Spain.
 Prof. Assoc. Elenica Pjero, in the role of coordinator of this project for 'Ismail Qemali University', as a representative of the Faculty of Economics emphasized that through this project, we will create Business Partner Forums at all universities that will act as an advisory body for adapting educational processes to the needs of the labor market
According to the latest global surveys and forecasts, 8 out of 10 young people living in low- or middle-income countries will have to be entrepreneurs. Creating an entrepreneurial society and changing the education system in a way that reflects the real needs of the market are a prerequisite for a better future for young people in BiH.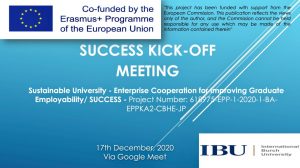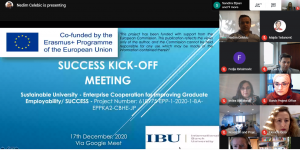 [:]